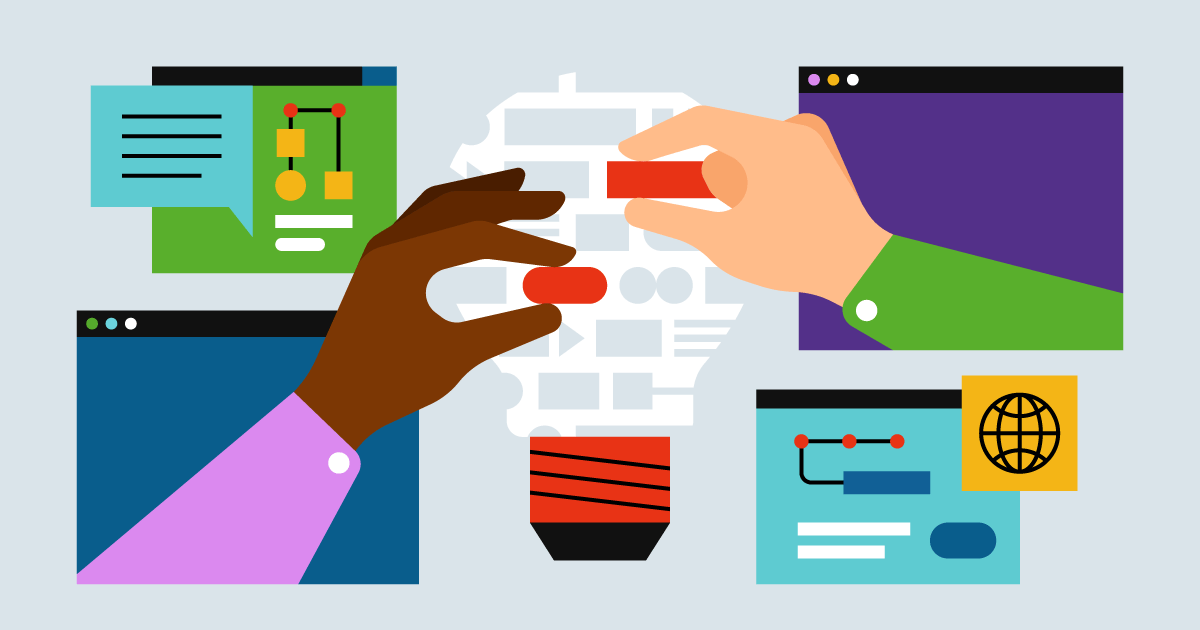 Numerous articles over the past six months have highlighted a powerful trend: Employees, shaken by the events of the last 18 months, are rethinking their priorities and their relationship to work. People are resigning and changing employers like never before. In this environment, according to Gartner's 2022 Planning Guide for Collaboration and End-User Technologies, internal knowledge management will be critical to productivity and continuity.
Along with changing roles, many employees are shifting their expectations around remote and distributed work. As hybrid work environments, remote teams, and asynchronous communication become the norm for most knowledge industries, strategies for communicating and working together are changing. Gartner explains, "Email is slowly dying as the preferred method of communication and collaboration. Staff members and the teams they associate with are rapidly shifting to workstream and social channels to interact. This transition dramatically accelerated with the recent shift to 'work from anywhere.'"
Apps that enable WFA, the report notes, "are becoming pervasive in the workplace. They should be leveraged as both knowledge capture and access mechanisms, allowing workers to share knowledge resources as part of any interaction."
Why knowledge management matters now
Knowledge management is paramount at this moment because work, and people, have fundamentally changed.
Employees aren't all in the same location with easy, reliable access to their managers, peers, and subject matter experts. Communication happens asynchronously; you can't tap someone on the shoulder or call across the conference room. People are also leaving companies at record levels. Without an effective knowledge management system, they can take decades of experience and institutional knowledge with them, leaving a huge gap for their replacements to fill.
According to Gartner, "Now that 'work from anywhere' is the new normal, that access is no longer a given. Further, employee churn is at record levels. When key people leave the organization, their expertise goes with them. Both of these trends will continue and accelerate in 2022, putting both business productivity and continuity at risk. Internal knowledge management focused on capturing knowledge and connecting subject matter experts will be essential to mitigating this risk."
Knowledge management done right
How do you manage knowledge in an effective, sustainable way? Start by thinking of it as knowledge sharing, not knowledge management.
The fundamental flaw in most legacy knowledge management systems is that they put the technology first and the human second. Legacy solutions can be rigid and overly structured, rather than in line with employees' organic way of seeking and sharing knowledge. For a system to work with today's communication and collaboration needs, people need to be able to capture, discover, or request knowledge naturally—without interrupting their existing workflows. Gartner specifically recommends that "developers should be able to document an insight or solution with the collaboration platform used by their team."
Organizations that rely on legacy knowledge management solutions will face even bigger problems as they bring on younger employees. As The Verge points out, "the concept of file folders and directories, essential to previous generations' understanding of computers, is gibberish to many modern students." When these employees are stumped, their instinct is to go find an answer themselves, usually by searching in a browser or going to a forum.
People who are directly asked a question are motivated to share their knowledge with the questioner. If you asked those same people to provide detailed documentation in a Wiki, they might resist, but they'll happily answer a coworker's question in a chat or comment thread. Answering a question is an easier ask than writing blank-slate documentation because the audience, the starting point, and the scope are clear from the beginning.
File-based structures and directories don't support our natural ways of seeking and providing information. The ideal solution is a knowledge-sharing process that's frictionless, intuitive, and—most importantly—self-sustaining.
Stack Overflow for Teams fits the need
More than 10,000 teams—including Expensify, Instacart, and Microsoft—already use Stack Overflow for Teams to share knowledge, collaborate more productively, and ensure business continuity. With Stack Overflow for Teams, you can:
Speed up onboarding by centralizing knowledge on an intuitive platform
Keep knowledge accurate by making information easy to find and update
Prevent knowledge loss and reduce repeat questions that sap productivity
Collect institutional and proprietary knowledge in a continuous, organic way
Measure engagement to see how people interact with your knowledge over time
Stack Overflow for Teams allows your employees to stay within their existing workflows. If finding and providing information is a pain, people will avoid it, but if they can do so organically within their established workflows, you can build a truly self-sustaining knowledge sharing and collaboration system.
Protect against knowledge loss
To drive productivity and ensure continuity in 2022 and beyond, Gartner recommends that companies invest in solutions that make "knowledge capture a core function of business systems, processes and workflows." Apps that enable effective knowledge management and remote collaboration have become ubiquitous and essential in the workplace. That's because knowledge loss is expensive in every sense of the word.
If you're not investing in knowledge management, you could be putting your business at risk. If, on the other hand, your organization is capturing knowledge in a way that makes it easy to find and update in the future, you're banking knowledge that will continue to pay dividends as your employee base grows and evolves.
Gartner, "2022 Planning Guide for Collaboration and End-User Technologies," Mark Lockwood, Mark Cortner, Darin Stewart, Larry Cannell, Guy Creese, Eric Grenier, 11 October 2021. GARTNER is a registered trademark and service mark of Gartner, Inc. and/or its affiliates in the U.S. and internationally and is used herein with permission. All rights reserved.