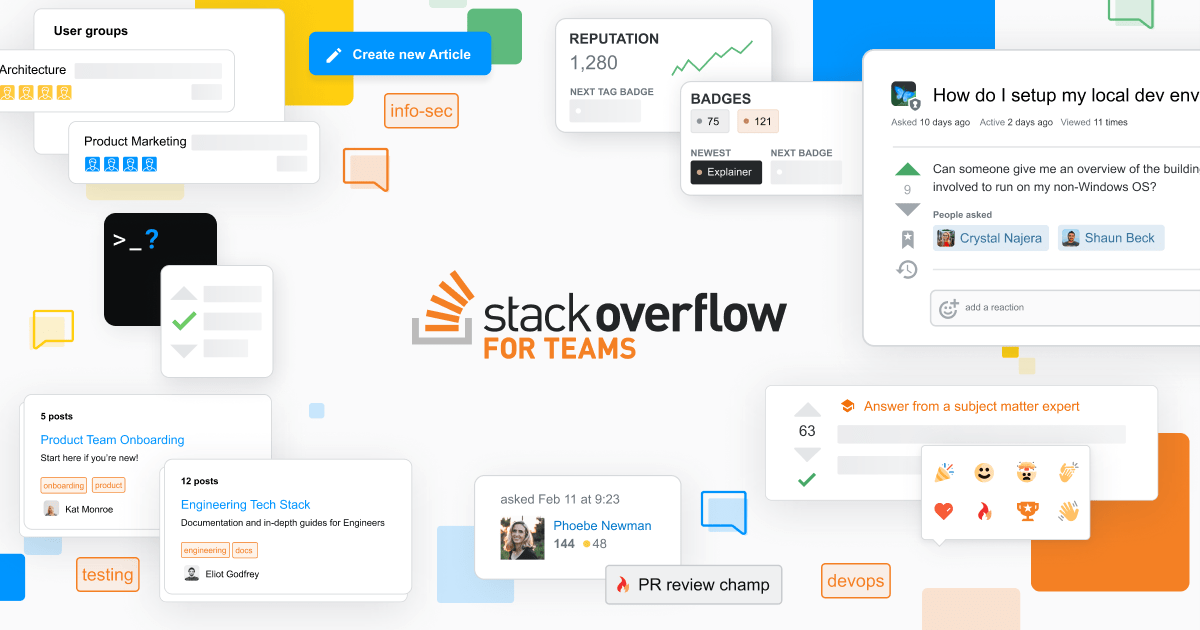 Known and trusted by developers, Stack Overflow for Teams drives knowledge reuse within an organization through a flexible web-based platform.
It supports a productive development culture, future-proofs a team, increases efficiencies by providing context, not just code. Measurement is core in the platform to reveal hidden patterns of challenges/gaps, allowing for the creation of action plans to improve and measure the impact.
Stack Overflow for Teams advantages
Ease of use and platform flexibility
Only Stack Overflow for Teams provides a platform that supports the natural way of thinking through questions and answers, and puts the users first instead of the technology.
Measurement and knowledge reuse metrics
Only Stack Overflow for Teams includes community and usage metrics to identify skill based experts, knowledge gaps, and reskilling/upskilling opportunities.
Fast adoption and risk mitigation
Only Stack Overflow for Teams can support rapid adoption with in-product onboarding guidance and personalized support from Customers Success with a technology that has enabled top digital communities for more than 13 years.
Transparent knowledge, unparalleled search, and organic collaboration
Only Stack Overflow for Teams allows everyone to participate from day one. Users are empowered to make their community their own rather than rely on siloed individuals, and the robust search capabilities help to maximize productivity.
The Q&A format makes the platform much more communicative/conversational than traditional wikis. The content is focussed on answering the question posed rather than documenting/dumping information in one place that others may need to dig through to discover what they need.

—
Asheesh R, Senior Robotics Engineer, Mid-Market (51-1000 emp.)
| | Stack Overflow for Teams | Confluence |
| --- | --- | --- |
| Central source of information | | |
| Flexible structure for knowledge sharing | | |
| Subscription includes support for question and answer format | | |
| Familiar platform that allows a quick adoption by technologists | | |
| Allows diversity of participation and knowledge sharing | | |
| Powerful search capabilities | | |
| Enables cross-team collaboration through transparent knowledge sharing | | |
| Content stay healthy and up to date | | |
| Flexible notifications to keep users up to date on the latest information | | |
| Knowledge contribution metrics and knowledge reuse to prove the value of the platform | | |
| Dedicated customer success team | | |
Ease of use
Stack Overflow for Teams
The Q&A format is common, even to non-developer or technologists, and the long-form content option extends the use of the platform.
The knowledge base is both proactive and reactive. Content is added proactively based on an anticipated need and reactively based on an immediate need.
Knowledge discovery is easy through a simple tagging structure, allowing users to quickly scan for information or proactively receive information.
Confluence
Requires structure and governance or the tools risks becoming an unstructured wiki which can be counterproductive and hard to browse.
Significant time and investment is needed up front to develop rules, regulations, and understand the rigid hierarchy structure.
The tool is rigid, putting the technology first instead of the user, and it requires several steps in order for users to see the value.
Metrics
Stack Overflow for Teams
Built-in community and usage insights to help identify, reward and recognize skill based experts within the organization.
Metrics help to uncover opportunities for reskilling/upskilling to support key technologies and business initiatives.
Knowledge reuse is a key metric and driver for productivity and efficiency. This metric is a measure of the reusability of knowledge already in the system.
Confluence
Lack of straightforward metrics including users activity, page views, contributors and new knowledge creation.
No way to measure the impact of the tool or uncover ways to improve knowledge sharing efforts.
Limited ways to view knowledge gaps or themes of information that users need to be trained on.
Adoption
Stack Overflow for Teams
Most every developer has a Stack Overflow tab open on their computer and uses the resource often.
Automated and contextual engagement outreach via email notifications and in-app nudges help to ensure adoption is successful.
Large Teams get access to an experience-based 6 step adoption strategy based on our decade-plus as a leading digital community.
Confluence
The tool is focused on the technology and process and not the community of users.
Significant time and focus is required up front to develop the governance, rules and regulations for maintaining a knowledge base.
The success and adoption of the tool is put on the client. Ongoing trainings are recommended and clients must actively maintain the tool to drive usage and content health.
Collaboration
Stack Overflow for Teams
Stack Overflow for Teams enables inner team and cross-team collaboration through open access for all, regardless of a user's role, title or department.
Silos are broken down, and users don't have to know the specific expert to get their question answered. Users groups help to cast questions into a wide net of users, typically by department or project.
Collaboration happens organically through features such as search, tags, comments, and notifications.
Confluence
Access to knowledge is regulated by rules in place by a few select users of the tool.
Knowledge remains siloed and there is a lack of transparency as personal spaces aren't accessible in search or visible to others.
Inefficient search results in more time spent finding knowledge, lack of visibility into helpful knowledge, and duplicate efforts to capture information over time.
It's challenging to transfer ownership of content, and users must guess who to reach out to with questions when contributors leave the organization.
Don't just take it from us. Read the G2 Crowd Compare Report that ranks Stack Overflow for Teams above Confluence in all 6 categories based on customer reviews.