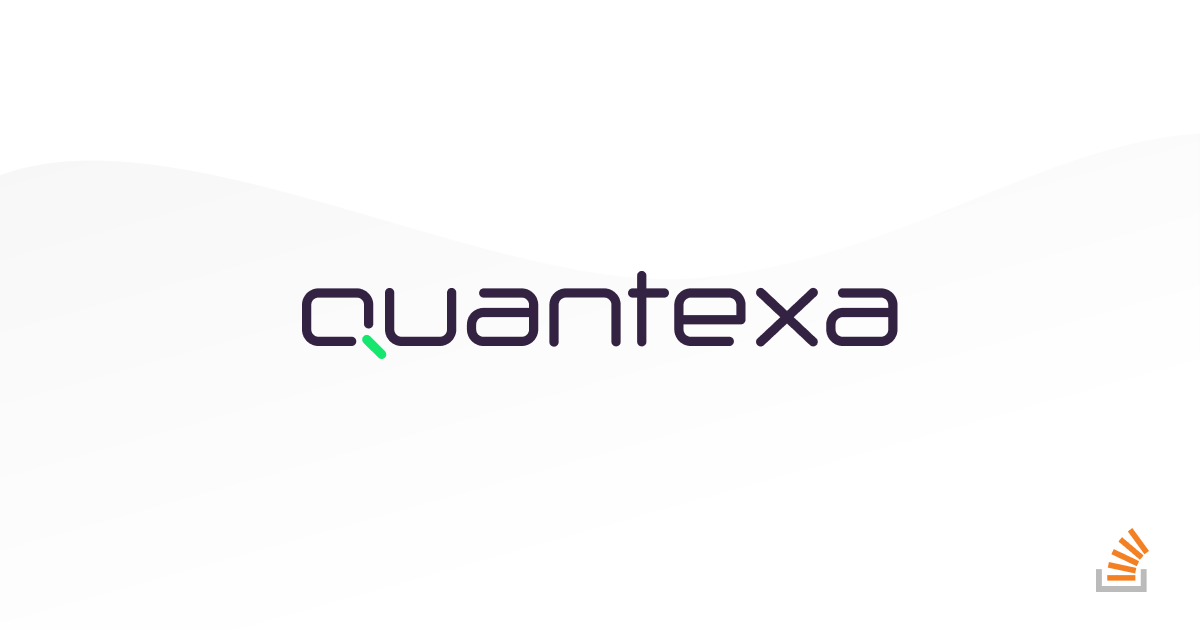 Quantexa is a software company that focuses on data-driven intelligence in finance and technology. For their customers, they provide fraud detection, data management, compliance, and anti-money laundering (AML) capabilities. Their customers tend to be large banks, government agencies, insurance companies, and other entities with an interest in preventing fraud or data mismanagement.
According to David Howes, Standard Chartered Bank's Global Co-Head of FinCime Compliance, a process that would have taken six or seven weeks was accomplished in a matter of hours with the help of Quantexa's platform.
In general, they're busy at work solving difficult data problems where complexity exists and scale is needed, with 160 engineers across nine countries.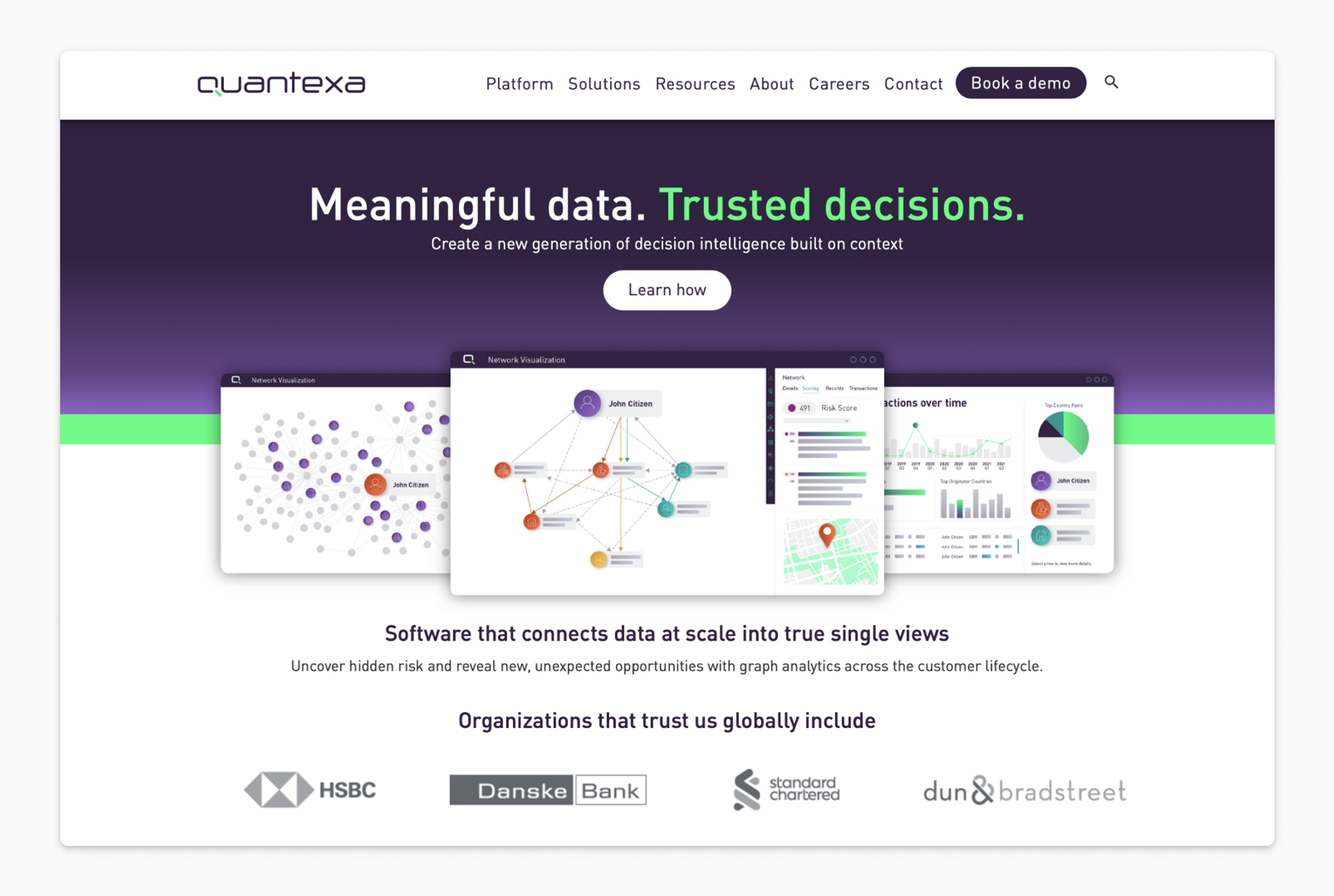 The problem
The large enterprise clients Quantexa works with need new software to be well integrated with their existing systems. Quantexa's engineers are responsible for ensuring the client can deploy the product into their environments, and extend it to meet their needs quickly and easily.
Quantexa found that during the deployment of their product they would often be asked questions on how to use certain functionality or to help troubleshoot. This drew their team away from developing and improving the next iteration of their product. It also meant that customers needed to wait for a response from an engineer to resolve the challenges they were facing.
The team quickly realized that the questions raised by clients were often not new, and had been asked by other customers. There was a store of knowledge that would quickly solve these problems, but there was no easy way to connect the client's questions with existing answers.
Before implementing Stack Overflow, we'd provided support in many ways, including email, instant messaging and phone calls. We would answer the same, or similar, questions from multiple clients across different communication channels, which is clearly inefficient.

—
Nathan Grand, Principal Engineer
Faced with these requirements and challenges, Quantexa sought to implement a system that is:
Sophisticated
Where developers could enter queries and receive responses at an appropriately technical level
Protected
Where proprietary company information would be secure
Scalable
As the client base grew, so would the platform capabilities
Dynamic
As more key information and useful answers are added, the platform becomes more of a useful resource hub
Communal
As newer partners enter the space, they have easy access to the collected wisdom of those with experience
The approach
Quantexa's engineers field all sorts of questions about implementing their software's different features. "The obvious place to turn when it comes to developer Q&A is Stack Overflow," said Ian Lees, head of R&D at Quantexa. "Everyone knows it, so when we direct partners to the platform, there's the implicit understanding that they already know it and 'get' it."
So, three and half years ago, Quantexa decided to implement Stack Overflow for Teams, producing a centralized knowledge base where both their employees and their clients could contribute to questions and answers that would be available, on demand, to those that needed them.
We hypothesized that through Stack Overflow, our partners would get all of the benefits of community: shared processes, Q&As and technical discussions that people could find, even years later.

—
Ian Lees, Head of R&D
Quantexa required a truly secure information hub, both for themselves and for the partners putting trust in them. Said Lees: "We needed to use something with adequate privacy controls. We're very much a proprietary software solution and our clients include banks and governments, so if we told them to go talk to people on a public forum, that wouldn't be appreciated". Stack Overflow for Teams brings a SOC2 certification and numerous options for on-premise deployment to ensure the safety of customer data.
As Quantexa brought on more partners, they incorporated Stack Overflow for Teams into partner onboarding. They encouraged partners to check Stack Overflow for Teams any time they had a question. That way, partners wouldn't have to deal with the delay of sending an email or making a phone call, and then waiting for the response from Quantexa's engineers.
The results
Customers are able to help each other out, without ever needing to contact Quantexa's teams
Partners and customers enter the Stack Overflow for Teams space and immediately finding support from peers and equals
The growing community of developers has access to shared knowledge that meets them at their own level
Quantexa has seen their partners and customers entering the Stack Overflow for Teams space and immediately finding support from peers and equals. Within a community of sophisticated developers working on similar issues, partners immediately access shared knowledge that meets them at their own level.
"The statistics from our Stack Overflow for Teams instance show just how often some questions and answers are useful to our community. Our most popular questions/answers have hundreds of views and tens of upvotes," said Grand. "We see far fewer direct requests for support through email and less repetition of the same questions, which boosts efficiency for us and our customers."
What's more, the system has had a snowballing effect. Over time, Lees noticed that customers will help each other out, without ever needing to contact Quantexa's teams.
"There's no better feeling than watching our customers help our other customers solve their problems," Lees told us. When that happens, Quantexa engineers avoid spending time on repeat problems and can devote more energy to solving new issues and building requested features. "It proves that the community is working and growing more valuable over time."
For Quantexa's Stack Overflow instance, the network and community effect is in full swing.
We get hours back, and problems solved, and higher degrees of customer satisfaction – basically for free. It's exactly the sort of investment that we want to make.
Lees has noticed several times that customers are solving their problems on their own, enabled by Quantexa's Stack Overflow for Teams hub. That means more speed for them, less overhead for Quantexa, and happier stakeholders all around.
"A big focus for Quantexa is on driving a community of Quantexa certified engineers who can build with Quantexa and support each other through this process. This is important to us as our builders are our lifeblood and it promotes the self-sufficiency of our clients and our partner base," says Chris Harris, Quantexa's VP of Customer Success and Enablement. "Stack Overflow allows us to point our customers and partners towards the community and they find like-minded people who can support them and help them to be successful with Quantexa. This is a key part of our solution, as we want Quantexa customers to be able to self-serve and ideate together."
To find out more about Quantexa, visit: quantexa.com