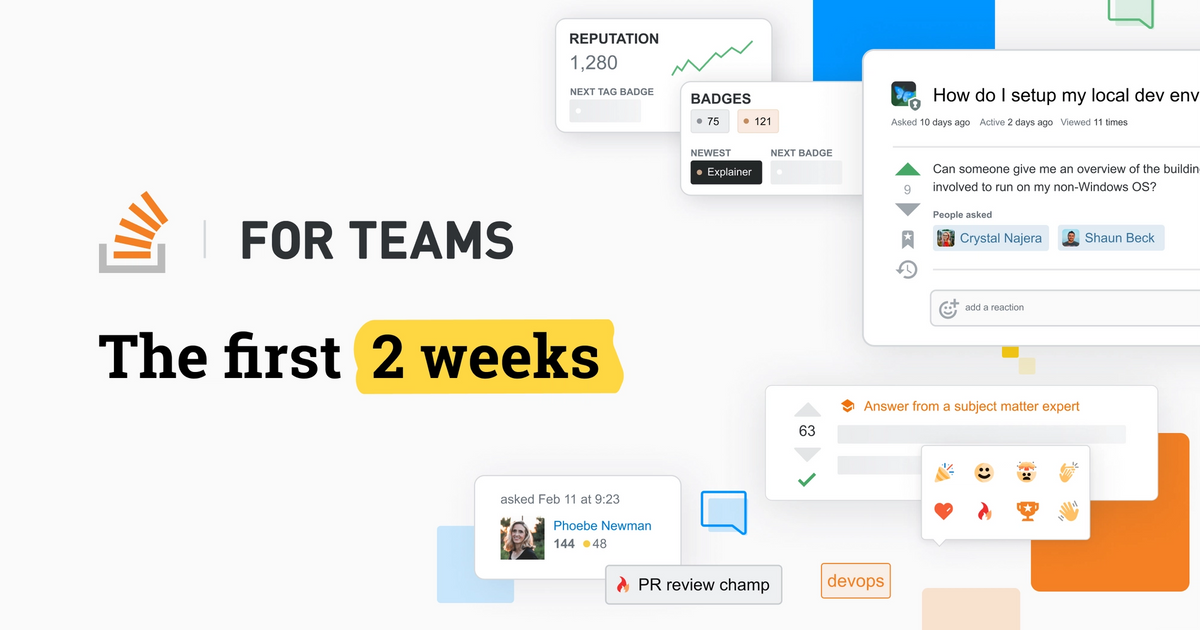 You've decided to try Stack Overflow for Teams. Awesome! You now have a private space to capture and reuse company knowledge using popular Stack Overflow features, reimagined for organizational teams. And you're in good company—organizations all over the world, big and small, use it to build internal knowledge bases that are community-driven, interactive, and even fun to use.
First-time administrators sometimes ask us how they can successfully implement Stack Overflow for Teams at their companies. If possible, we suggest inviting an additional administrator to help you with the implementation and launch. You and your launch team should follow these three steps to succeed.
Determine key topics that your coworkers should know
What topics produce the most questions and answers in email, chat, meetings, and during the onboarding process? These topics have the potential to be reused over and over again via Stack Overflow for Teams. To discover what they are, scan chat and email, or schedule brief interviews with roles like developers, engineers, and product managers.
Some examples of topics:
A key project or initiative.
A company product or API.
Common new hire questions.
Common topics are key to quickly and naturally building a central knowledge base. The topics you determine will also inform the Tags that categorize questions and answers. Your coworkers can filter Tags to more easily search content and watch ones relevant to them to get notified of updates.
Resources:
Get help from your organization's subject matter experts
Next, invite your organization's subject matter experts to Stack Overflow for Teams so they can seed 3-5 questions and answers for their respective topic or topics. This core team may be a few of your coworkers or many of them across teams and projects. To make it easier for them to join, verify your company's email domain, or if you're on a Basic or Business plan, set up single sign-on.
Set expectations in a meeting or communication, and make them feel special that they're the experts at your company. Reiterate that Stack Overflow for Teams will save them time from repeatedly answering the same questions in email and chat. And if your budget allows, offer incentives or hold contests to encourage participation.
If they need help getting started, share best practices for answering questions and remind them to tag by topic. The most popular questions are usually related to onboarding, best practices, and troubleshooting proprietary company technology and processes.
Resources
The more the merrier - Share the news with everyone!
Once you have a core knowledge base, announce the launch of Stack Overflow for Teams via a company-wide email to generate awareness and excitement. Explain why this is important, expectations for use, and how you'll measure success.
Changing your coworkers' behavior of using email and chat threads as a source of knowledge takes time, and should be a collaborative effort. Companies who successfully drive long-term usage of Stack Overflow for Teams follow these best practices:
Educate users unfamiliar with Stack Overflow
Are some of your coworkers unfamiliar with Stack Overflow and its format? If so, share this user guide with them and consider hosting a lunch and learn session with a live demo.
Integrate with your chat platform
Integrating Slack or Microsoft Teams enables your coworkers to capture, search, and share questions and answers from within chat, where they already work and spend their time.
Ask senior leaders to report on activity regularly
Here at Stack Overflow, our CEO sends out a weekly email that shows the top 10 employees who earned the most reputation points that week. It's a great way to incentivize usage.
Encourage subject matter experts to remind others
If subject matter experts are getting asked the same questions in email or chat, they should kindly nudge their coworkers to post the questions on Stack Overflow for Teams instead.
Resources
You've got this
Congratulations! You've successfully launched Stack Overflow for Teams at your organization. We're here to support you along the way, and encourage you to check out our Help Center for more how-tos and best practices. You'll foster a collaborative knowledge sharing culture in no time.