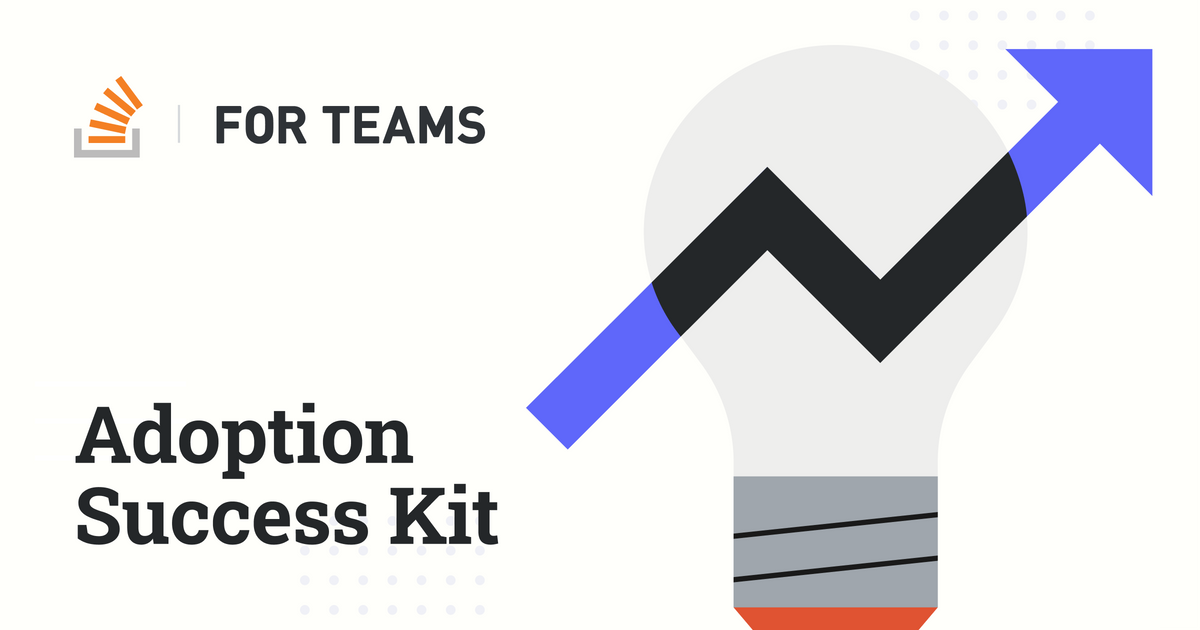 This success kit gives you best practices and guidance to maximize Stack Overflow for Teams' impact. If you're just getting started, check out these tips for success in your first 2 weeks. If you're past the honeymoon phase and looking to experiment, expand, or change things up, these resources can support every stage of your journey:
Activate
In the activation phase, you'll get started on the right foot. Think of it as your New Year's resolution: now you lay the groundwork for future success. That means doing things like asking, "What does success look like?" and building up a sturdy foundation.
Define success
Set measurable objectives
Establish a measurable business goal or set of goals that you want to achieve with Stack Overflow for Teams. That way, you can actually pinpoint a use case and articulate company benefits to your manager or stakeholders. When setting goals, ask yourself, what challenges am I looking to solve? Here are some examples:
Speed up onboarding time by X week(s)
Retain X% of the development team
Reduce repeat questions by X%
"If you can't measure it, you can't improve it." – Peter Drucker
Choose specific KPIs
Determine the specific key performance indicators (KPIs) that will measure success. A Stack Overflow for Teams KPI might be "% of the development team that asks or answers questions on the platform." Another example: "total number of tags," which indicates cross-functional collaboration and fewer knowledge silos.
Tracking Success
The Business and Enterprise plans give you access to a Dashboard that shows more granular trends in community health and engagement, including metrics like interaction rate, median time to answer, and Active vs. Passive users. You'll also get access to more dynamic insights with read / write API access.
It can be helpful to align your KPIs to a company project, for example:
A high velocity project where people need to upskill or get up to speed quickly
A broad project like a cloud migration or process improvement initiative
A new initiative where there is a big learning curve, such as machine learning
If you need ideas for business KPIs, here are some resources.
Defining your goals and KPIs are key to successfully rolling out the platform, so we encourage you to really reflect on what challenges you're looking to solve with Stack Overflow for Teams and how you'll measure success.
Set up key functionality
Set up authentication method
To make onboarding as simple as possible, verify your company's email domain. This action allows you to share a single invitation link with any new teammates. If you're on our Basic, Business, or Enterprise plans, set up single sign-on to streamline and secure your team's access even further.
Integrate with your chat platform
We integrated Stack Overflow for Teams with Slack and Microsoft Teams to save teams time from searching old chat threads and asking redundant questions. These integrations allow you and your team to curate, search, and interact with a scalable knowledge base from within chat, where you already spend time.
Implementing a chat integration early on ensures that Stack Overflow for Teams becomes integral to company workflows from the start. To kick off the installation, brief your chat platform administrator on the process and security with these resources:
Also, share the benefits of using Stack Overflow for Teams in chat with your team so they see its value:
Avoid losing important answers and knowledge in old chat threads
Ask the right person the first time instead of hopping channels
Build a central knowledge base without switching workstreams
"Stack Overflow for Teams gives our team the ability to branch quickly from Slack into Stack Overflow to record important questions/answers so that they're properly documented, a true answer is noted, and it's easy to search/find later."

—
Steve H, G2.com review
Customize your site's appearance
As an administrator, you can configure your site's Display Settings to align with your company's brand, creating a welcoming experience for new teammates. Set separate accent colors for light and dark modes to customize backgrounds and borders, and as a final touch, add your company's logo.
This stage has been successfully completed if…
You've set measurable goals and KPIs
You've set up an authentication method
You've set up a chat integration
You've customized your site
Onboard
During the onboarding phase you'll recruit a core team, seed content, and plan communications to ensure a successful launch. Onboarding done well provides a strong introduction to Stack Overflow for Teams, and creates a long-term success strategy for all stakeholders.
Onboard your core team
Onboarding a core launch team ensures that your Stack Overflow for Teams user community grows. The table below summarizes some key core team roles. If you need help identifying people to cover them, conduct a short survey announcing the project and soliciting help.
Keep your content fresh
Business and Enterprise customers have access to a set of Content Health features that programmatically identify and surface knowledge that has potentially become out-of-date. Moderators can then verify, edit, or mark knowledge as obsolete to keep your knowledge base healthy and useful.
Implement a content strategy
Identify key content topics
What topics produce the most questions and answers in email, chat, meetings, and during the onboarding process? These topics have the potential to be the most referenced on Stack Overflow for Teams. To discover what they are, scan chat and email, browse internal wikis, or schedule brief interviews with roles like tech leads, engineers, and product managers.
Some examples of topics:
A key project or initiative
A company product or API
A language or domain
A department or team
Common new hire questions
The topics you determine will inform your site's tags, which categorize questions and answers so they can be found faster. Your entire team can then "watch" or "ignore" certain tags to get notified of relevant updates.
Tag all the things
With our Business and Enterprise plans, administrators can individually add new tags, upload them in bulk via a CSV file, and assign Subject Matter Experts to them. They can also create custom reports on tag usage.
"The most significant upside of using Stack Overflow for Teams over posting questions in other tools (like Slack) is the ability to tag them, watch those tags, and later search/filter by those tags. It makes it easy to find questions later when keywords or technical terms may not be obvious."

—
IT admin, G2.com review
Get help from subject matter experts
Next, invite your company's subject matter experts so they can start seeding 3-5 questions and answers for their respective topic or topics. Subject matter experts are usually tech leads, product managers, project owners, or system administrators.
Set expectations and make them feel recognized as technical experts at your company. Reiterate that Stack Overflow for Teams will save them time from repeatedly answering the same questions. And if your budget allows, offer incentives or hold contests to encourage participation.
If they need help getting started, share best practices for answering questions and remind them to tag by topic. They should break up this work into manageable chunks of time—we suggest picking 10-15 minutes every morning or another time that works best for them.
Ask the expert
With the Business plan, you can designate someone as a Subject Matter Expert and assign them relevant tags. You can also create User Groups.
Create a launch communication plan
Even before you establish a core knowledge base, you'll want to start communicating with your team to create excitement about the platform. Below is a sample communication plan you can follow.
This stage has been successfully completed if…
You've onboarded a core team to add knowledge and drive adoption
You've identified a few key topics that will inform your site's tags
Each subject matter expert has seeded and tagged 3-5 questions
You or your marketing team have planned and executed launch communications
Adopt
In the adoption phase, your entire team or organization gets in the habit of using Stack Overflow for Teams. During adoption, you'll provide enough education and incentive to adopt Stack Overflow for Teams into their daily workflows. And it's all downhill from there!
Encourage team to customize settings
Your team should customize their Profile Settings when they log-in for the first time to ensure Stack Overflow for Teams works best for them.
Customize profile
To create a sense of community, encourage your team to add their title, projects, skills and expertise, how long they've been with the company, and hobbies and interests to their profiles. If they already have a Stack Overflow profile on the public platform, they should still create a separate internal profile.
Watch and ignore tags
Tags categorize questions and answers by topic. Your team can "watch" or "ignore" tags relevant to them to get custom notifications in email and chat.
Configure email settings
Your team can configure their email settings to opt in or out of certain promotional, research, and product emails.
Promote key features
We consistently hear from successful teams that educating users on these features will maximize adoption.
Question and answer format - Capture internal knowledge more easily and connect knowledge seekers with subject matter experts using Stack Overflow's well-known format. You can also upvote useful questions and answers to make them more visible, and get reputation points if you're the author.
Search - Find internal knowledge faster by searching within tags or code blocks, limiting searches to question titles or bodies, or using advanced search options.
Tags - Categorize questions and answers with tags so they can be filtered and found more easily. Your team can also "watch" relevant tags to get notified of updates in chat and email.
Chat integrations - Ask questions, search your knowledge base, and get customized notifications all from within chat by using Stack Overflow for Teams with Slack or Microsoft Teams.
We call out these features so you know to focus on them as you engage and educate your team. Your team will see value faster if they know how to use them and why.
Get more out of Teams
The Business and Enterprise plans build on these core features to offer long-form knowledge with Articles, additional Jira and Github integrations, Collections that group content, Content Health tools, and more.
Drive engagement and monitor progress
Team engagement is crucial to success. Companies who drive long-term usage of Stack Overflow for Teams follow all or some of these best practices:
Publish a regular newsletter
Internal newsletters are a great way to showcase what is happening in Stack Overflow for Teams. A newsletter will help you recognize contributors with the most Reputation points. Here at Stack Overflow, our CEO sends out a weekly email that shows the top 10 employees with the Reputation points that week.
Encourage core team to evangelize
Your core team is the Stack Overflow for Teams cheerleaders in your organization. To evangelize it as a knowledge sharing solution, share it with leaders who could use it in their workflows, or include it on the agenda for departmental all hands meetings.
Incorporate into the onboarding process
Create an "Onboarding" tag that houses all onboarding-related questions. Then share it in new employee communications. Some examples of onboarding questions include "How do I set up my local dev environment?" and "What is the process for submitting time-off requests?"
Configure tag-based notifications
Many teams find it helpful to get tag-based notifications to zero in on an important topic. Configure the platform to send notifications by tag to public or private channels in chat. Control which activities trigger a notification, including mentions, questions, answers, and comments.
Educate new Stack Overflow users
Your coworkers may not be familiar with Stack Overflow's well-known format from the public platform. To ease adoption, share this user guide and consider hosting a lunch and learn session with a live demo.
Be creative and make it your own
Your company's culture is unique, so be creative about how you drive engagement. For example, run regular question and answer challenges—take a look at the Code Golf Stack Exchange site for inspiration—or use it to publish sprint retrospectives. The possibilities are limitless.
"As a senior software engineer, I often feel stuck in the process of training and onboarding and answering the same questions over and over. Filling out our internal knowledge base in Stack Overflow for Teams has been an excellent way to reduce overhead and simplify the process."

—
Senior Software Engineer, G2.com review
This stage has been successfully completed if…
You've invited additional teammates
Your team has customized their profiles and notifications
Your team is aware of features that simplify knowledge sharing
You've implemented an adoption best practice to drive usage
Scale
During the scaling phase, you'll assess how the platform helped you achieve your goals. Then, you'll explore how expanding or upgrading to another plan can build on the momentum.
Demonstrate impact
Once adoption ramps up, you'll want to demonstrate Stack Overflow for Team's impact to management and other stakeholders. Remember, you set goals at the beginning of the process. Showing how the platform helped you and your team overcome a challenge to achieve these goals is the best way to get internal buy-in when expanding or upgrading to another plan.
You can also share testimonials from the team to demonstrate the impact of the platform. To solicit good testimonials, ask these questions:
What do you like best about Stack Overflow for Teams?
What problems are you solving with Stack Overflow for Teams?
How is Stack Overflow for Teams different from other tools we use?
Identify expansion opportunities
Because Stack Overflow for Teams is so flexible, many companies use it to capture and share knowledge across teams, and even departments. To maximize its potential, identify possible areas of expansion. Extending its reach will ensure the right people are there to ask and answer questions.
Determine next steps
At this point, we hope you've realized how Stack Overflow for Teams creates value for your company and shared it with your peers. If you're ready to start taking advantage of our Basic, Business, or Enterprise plans, take a tour to explore all possible capabilities and compare plans to determine which one is best for you.
This stage has been successfully completed if…
You've assessed and shared the platform's impact
You've identified a possible area of expansion
You've explored other plans to see if they fit your needs
You've gotten buy-in from your manager or other stakeholders