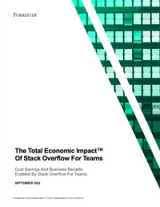 The Total Economic Impact™ of Stack Overflow for Teams
Get the study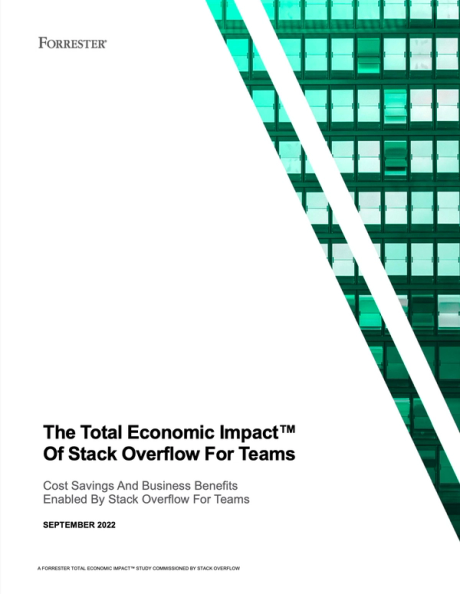 The Total Economic Impact™ of Stack Overflow for Teams
Stack Overflow commissioned Forrester Consulting to conduct a Total Economic Impact™ (TEI) study to examine the potential return of investment (ROI) organizations may realize by implementing Stack Overflow For Teams.
To better understand the benefits, costs, and risks associated with this investment, Forrester interviewed six representatives of five organizations with experience using Stack Overflow for Teams. For the purposes of this study, Forrester aggregated the interviewees' experiences and combined the results into a single composite organization.
The representative interviews and financial analysis found that a composite organization experiences benefits of $14.42 million over three years versus costs of $4.95 million, adding up to a net present value (NPV) of $9.46 million and an ROI of 191%.
Prior to adopting Stack Overflow for Teams, the customers Forrester interviewed struggled with finding the right knowledge when it is needed, wasting time answering repetitive questions, difficulty preserving institutional knowledge, and longer onboarding times for new hires.
After investing in Stack Overflow for Teams, the customers realized the following key benefits:
Increased time saved for employees finding and sharing knowledge
Retained knowledge of subject matter experts who had left the organization for future reuse
Improved developer productivity and increased innovation
Faster time-to-proficiency for new hires
Enhanced sense of workplace community