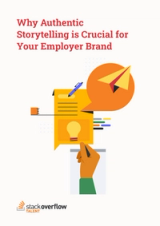 Why Authentic Storytelling is Crucial for Your Employer Brand
Get the eBook
Why Authentic Storytelling is Crucial for Your Employer Brand
In order to capture the attention of top tech talent, you must showcase your employer brand. Storytelling is an important way to effectively communicate what your company can offer that other employers don't, and connect with developers and technologists you need now and in the future.
What is Employer Brand Storytelling?
Employer brand storytelling focuses on what makes a company unique and uses real stories from employees.
Companies tend to lead with messaging around mission and values, but stories told by your own developers create a more meaningful and authentic connection to those principles. They want to know what to expect, and have a clear picture of what life is like at a company before taking a job.
There are five essential elements of employer brand storytelling:
Consistency and authenticity
Knowing your audience
Communicating the problem you solve
Building your character
Connecting with your community
What Storytelling Does for Your Employer Brand
Storytelling lets you communicate past just words; it helps you show people what you believe. When you articulate your company's values, you make it easier for people to align themselves with you — and you can better attract qualified tech talent.
Storytelling Can Be the Great Differentiator
Storytelling is the most effective way to set your organization apart from your competitors. By telling your authentic story, you can give tech talent what they have been asking for - an inside peek into what it's like to work at your organization from those they trust, other developers.
To access the full 'Why Authentic Storytelling is Crucial for Your Employer Brand' eBook and learn more about how authentic storytelling can help your employer brand, fill out the form.