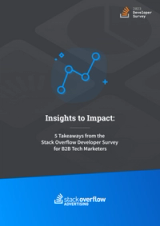 Insights to Impact: 5 Takeaways from the Stack Overflow Developer Survey for B2B Tech Marketers
Get the eBook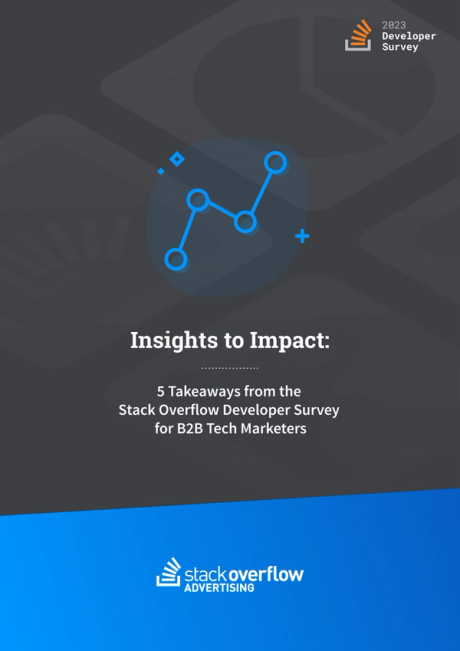 Insights to Impact: 5 Takeaways from the Stack Overflow Developer Survey for B2B Tech Marketers
Understanding developers' roles, daily habits and motivations, are key steps to building an effective advertising strategy. Thousands of developers and technologists worldwide participated in Stack Overflow's annual Developer Survey providing valuable insights into how they learn and level up, which tools they're using, and what they want.
In this eBook, we explore five key insights from the survey over the past two years and share how B2B Tech marketers can use these learnings to inform their marketing and advertising strategies.
Insight #1: How do developers research and discover new tools and technologies
Technology moves fast and developers and technologists like to stay current. But how do they find the right tool or service for the problem at hand?
Insight #2: What online resources do developers turn to when they're learning how to code
With technology continuously changing, learning is a constant for developers. According to our survey, developers teach themselves to code in a variety of ways. From written material to a variety of video formats, books, and courses - there's no one size fits all approach.
Insight #3: How are developers and technologists influencing purchasing decisions within their organizations
Developers are often given the freedom to purchase technology on their own and they're given a seat at the table on technology buying committees. Convincing developers of the value of your technology sets the stage for winning new clients at the institutional level.
Insight #4: How do developers define their roles
As technology continues to evolve and organizations across every industry undergo their own digital transformations, so do the roles and responsibilities of developers.
Insight #5: Where are developers and technologists located
Developers and technologists in today's organizations are no longer limited by ZIP code or time zone. Your marketing and advertising strategy shouldn't
be either.
To access the full 'Insights to Impact: 5 Takeaways from the Stack Overflow Developer Survey for B2B Tech Marketers' eBook simply fill out the form.